Catering Menus
We can accommodate catering for any wedding big or small.
Ask about our guarantee. We offer catering services for:
Missoula Location
Call Bob at 406-213-9730 today to get started
View Our Missoula Catering Menu
You can also hire a caterer with us for the:
Billings Location
Call Kelly at 406-213-9717 today to get started.
View Our Billings Catering Menu
Prices subject to change. Please call 406-696-3540 for most current pricing.
If you're interested in our catering services and would like us to help you host your next event please don't hesitate to call.
Contact Kelly at our Billings Location
Contact Bob at our Missoula Location
---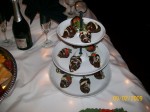 ---
Here are a few venues we have catered at…but we can accommodate any venue that allows outside catering.
In Billings:
Saddle Club
Billings Depot
Cherry Creek Community Center
1955 Cherry Creek Loop  254-2555
DanWalt Gardens
Lake Hills Golf Club
Metra Park Pavillion
Moss Mansion
Oscar's Dreamland
Sunset Bowl (Downstairs) 
1625 Central Ave  656-6211
Yellowstone Art Museum
ZooMontana
Outside of Billings:
Chauncey's Events 
Wildflower Weddings